Hamamatsu City promotes an environment where everyone can live together safely and comfortably.
The Hamamatsu Intercultural Center works in many ways to help achieve this goal.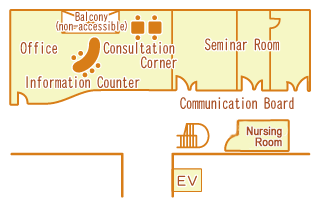 Open Space / Seminar Room
Anyone may use these rooms anytime during opening hours for intercultural and international exchange purposes. The rooms are perfect for small meetings and get-togethers. When using the rooms, please fill out the "Room Usage Application Form" at the reception desk.
Exhibition Corner
There are three large panels for exhibiting pictures and compositions related to interculturalism, international exchange and cooperation. Ask the office for more information about the exhibition.
Click here for "Facility Usage Application Form"
(Word(34KB) or PDF(92KB))
Access
〒430-0916 Create Hamamatsu 4F, 2-1 Hayauma-cho, Naka-ku, Hamamatsu-shi
How to get here
By train

Ten-minute walk from JR Tokaido Line "Hamamatsu Station"
Beside the "Enshu Byoin Mae" station on the Enshu Railway Line.
Access/Enquiries
Office
Open every day, 9:00–17:00
*Closed on national holidays and New Year's holiday period
TEL: 053-458-2170 FAX: 053-458-2197
E-mail: info@hi-hice.jp
Open Space
9:00 -17:30
Monday-Sunday (closed Dec. 29 – Jan. 3)
Immigration / Residency Procedures Consultation
Wed. 9:00 – 17:00 (lunch break 12:00 – 13:00)
TEL: 053-458-1510
Mental Health Consultation
Tue – Sat 9:00 – 17:30
TEL: 053-458-2310