Learn not only the language, but also the culture!
Classes from May 18 (Thu.) ~ August 3 (Thu.), every Thursday weekly, 19:00~20:30 for 12 classes
※6 participants minimum required for classes to begin.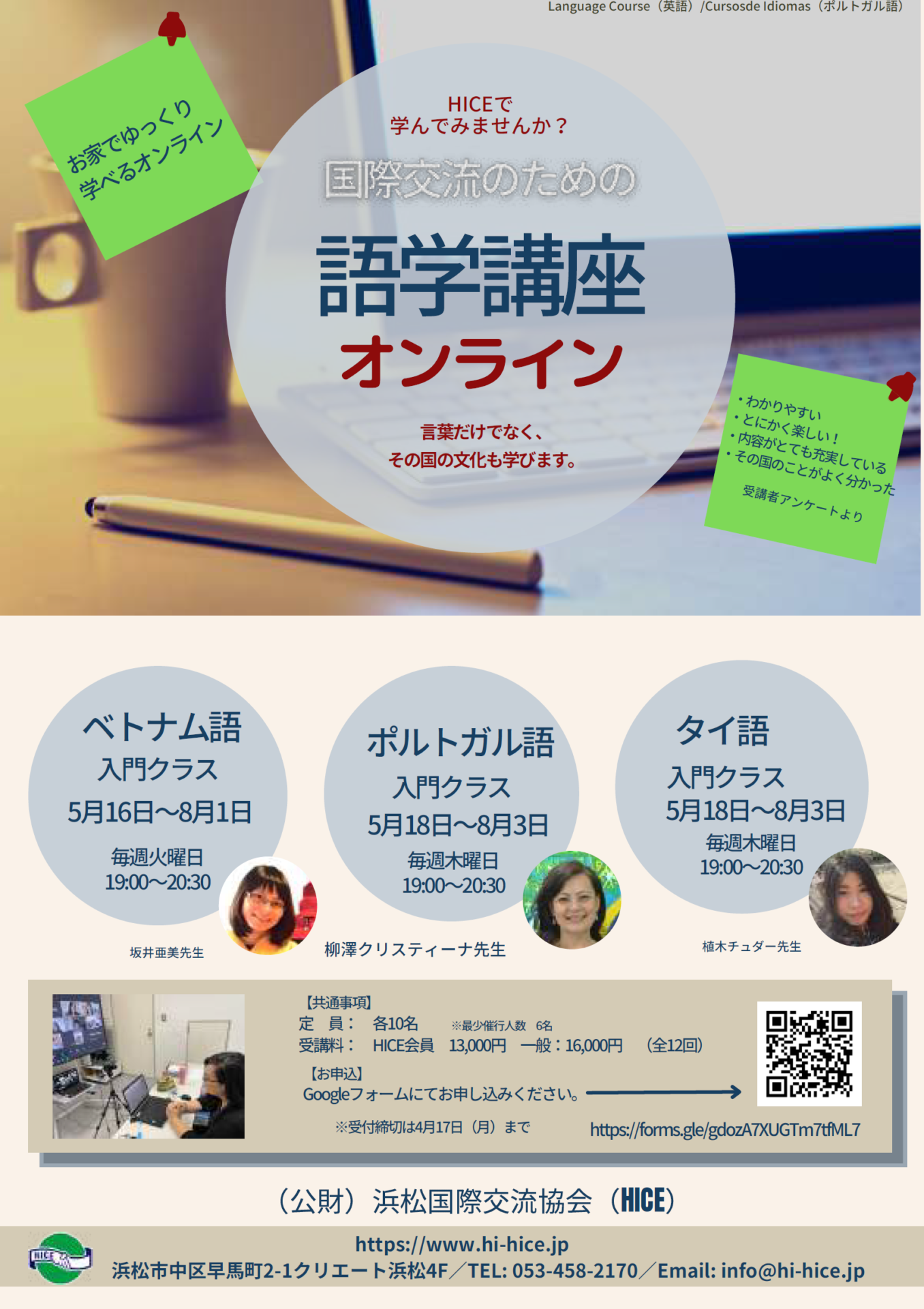 [Content of Study]:
This course is a beginner level course to help students learn pronunciation, expressions, and basic grammar of Portuguese, as well as to introduce Portuguese culture through PPT and other materials.
At the end of the course, students will have a chance to express themselves in Portuguese through a presentation of essays they have prepared throughout the course.
This course is not only about language learning, but also about learning the charms of Portuguese culture from various perspectives. Additionally, the native instructors will discuss various topics such as "Portuguese Culture and History" and "How to communicate effectively in Portugal" during the course.
[Learning Methods]:
(Conversations): We will use texts made for foreign people to learn Portuguese (copies passed out to students) to practice pronunciation and basic conversations. We can also use the texts to practice our listening skills.
(Grammar): As well as using the texts mentioned above, we will also use materials written in Japanese (copies passed out to students) in order to further explain grammar and render it more easy to understand for the participants.
[Study Format]:
In this class, students will first learn a variety of everyday conversational expressions. The course will be based on the study of basic Portuguese grammar, and students will deepen their understanding of the language. Together we will study basic grammar, and practice it together.
In the classes, we will practice in pairs by role-playing, as we can practice Listening → Learning → Understanding → Speaking
Conversations should be practiced individually first and then repeated as a whole class. We will also learn by role-playing real-life situations.
[Level Expected from Students]:
At the end of the classes, students are expected to be able to communicate with Brazilians residents living in Hamamatsu and Japan.
The goal of this course is to enable students to learn simple greetings, and facilitate basic conversation with Brazilian people.
To achieve this, we will study expressions and grammar which is used in daily conversation, and learn about Brazilian culture and customs to improve conversation skills.
1st Class Orientation
2nd Class Greetings ①
3rd Class Greetings ②
4th Class Pronunciation and Spelling
5th Class Personal Pronouns
6th Class Vocabulary: Colors
7th Class Brazilian Culture and Customs
8th Class Country and Nationality
9th Class Usage of Verbs: s and er
10th Class Professions, Nouns, Gender, and Plurals
11th Class Conversation Practice
12th Class Revision